Like many other mature industries, the stock image market is going through a phase of disruption. Along with the growth of the Internet and the proven effectiveness of visual communication, free stock photo sites are mushrooming and gaining popularity within the industry. These sites offer photography content that challenge big stock photo brands in terms of affordability (it's free!), authenticity and even quality of photos.
How did free stock photography come about? How are people using it and what might be the future of free stock photos? Let's take a look at the history of free stock photography, its growth and its prospects.
How did free stock photos come to be and how is it being used?
While it's hard to trace the exact time when free creative commons zero stock images came around, there are clear reasons for its rise in popularity.
People got sick of crappy and staged photography
Everyday, business owners, marketers and designers face the challenge of finding high-quality photos that fit their brand or campaign message without breaking the bank. Understanding the pain, pioneering free stock photo sites such as Death to the Stock Photo, Unsplash, Pixabay and Pexels were born.
More importantly, the great thing about these free image resources is that they look more authentic and natural as compared to their paid stock photo peers. Older stock photos tend to look staged and sometimes outright weird. Between these 2 options, it is easy to understand why free stock photos rocketed in popularity.
This extremely high-quality stock photo is provided under CC0 license from Raydar/Gratisography
This photo from Stocksnap has a street style vibe which is useful for a travel blog
This dreamy photo of pigeons in London from Raydar/NegativeSpace will create a romantic vibe for your blog.
This colorful picture can light up the website of a local bakery without the owner breaking the bank on a shooting project
When it is easy to create, more are happy to share
Today, nearly one-third of the world's population have access to smartphones with advanced cameras. In addition, the advent of photo editing apps that can capture and edit high resolution photos has empowered amateur or semi-professional photographers without the need for a full camera gear and expensive image editing softwares.
At the same time, social and/or community platforms like Facebook, Instagram and VSCO serves as a strong catalyst for more photographers to join the fray to shoot and post better pictures. Free stock photo sites are often built from a community driven approach, where photo seekers can "Like" a free stock photo they come across. The key draw for photographers? Validation from the creative community and exposure to potential gigs. On popular free stock photo site Unsplash, photo contributors can leave a link in their profile page to drive traffic to their main photography/portfolio site. This is an attractive way for new photographers trying to turn pro and build up their reputation and online followers.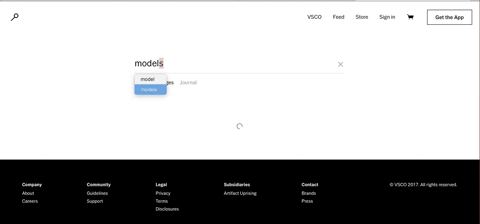 Breath-taking model portraits by VSCO users, which can be used for online magazine, fashion and beauty blogs (Source: VSCO)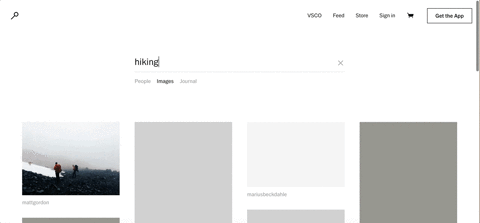 Who would have known that your mobile phones can create majestic landscape photos like this? (Source: VSCO)
An outdoor test shoot taken with Galaxy S7 (Source: PC Advisor)
Crazy wide angle - taken with LG G5 (Source: PC Advisor)
Free stock photos have broad and useful applications
Free stock photos, although limited in quantity, are being widely used in a variety of visual projects from marketing materials, blog graphics, website headers to online teaching materials. For example at Raydar (shameless plug: we are a search aggregator for stock photos), our Top Picks for May collection curated from multiple free sources visually illustrates the range of free stock photos available for summer.

Below are some mind-blowingly awesome projects that came about thanks to free stock photos from Unsplash.
Poetry inspired by an Unsplash picture by James A. Pearson
A stunning photoshop remix by Dominik Bonk (Source: thegraphicseye
App prototype made with free stock photos (Source: Behance.net)
Pros of using free stock photos
👍🏻 High quality stock photos can be downloaded for FREE. However, some free stock photo sites do offer paid memberships. This feeds the team or person behind all these free content so that they're alive and motivated to keep providing high quality images free of charge.
👍🏻 Say NO to cliché stock photos. Free stock photos are often taken by photographers who are passionate about authentic shots. Sites like Pixabay and Unsplash have comparably fewer cringey photos of handshakes with no bodies attached and unnatural poses such as people running through a field in suits.
👍🏻 A GREAT resource for small projects that need quick turnarounds. For startups, bloggers, digital nomads or solo-preneurs free stock photos can provide visual identity at zero cost. Small projects such as A/B testing landing pages or pushing out quick iterations of demo products can benefit greatly from free stock photos.
Cons of using free stock photos
👎🏻 Free doesn't always mean… free. Make sure the free stock images that you are downloading and using is licensed under CC0 by the source website or the photographer. Not all free content sources are licensed under CC0. Some licenses require attribution and/or are not allowed for commercial use!
👎🏻 Free stock photos are limited in numbers (variety). This increases the possibility of same photos being used by multiple brands, worst if that brand is a direct competitor. Free stock photo sites only release 10 - 20 free photos per week, whereas paid stock photo brands like Shutterstock add more than a million stock images to their database every week.
👎🏻 Unfortunately, free stock photos are not a good choice for big enterprises. Big brands cater to massive audiences and visual branding is of key importance. Thus, they cannot afford to use the same images as their competitors.
👎🏻 Logos and trademarks. It is important to make sure that there is no noticeable brand or trademark in the image. Free stock photo sites often have a more relaxed level of curation and filter, thus some images with well known logos can get into the system. Designers and marketers should either photoshop the logo away, or pick another image.
👎🏻 Not-so-powerful search engine. Search results and filters provided by free stock photo sites are often not as powerful as those from established stock photo brands. The latter provides more extensive keywording and arguably, a better search experience for users.
How are larger stock photo brands reacting to keep up with the competition?
Big players have reacted through a variety of initiatives which includes giving out freebies and free trial periods to forming deeper integrations with design and editing tools.
Weekly free stock photos and free trials
123rf.com started giving out freebies through their blog starting from March 2014.
Shutterstock started a bit earlier, in 2012, and has been featuring two free stock photos and the photographer every week on their blog, something like this one below:
Shutterstock's free weekly photos (June 2016)
Larger stock photo brands are not just offering photos but other free visual assets such as audio, illustrations and vector arts as well. Nevertheless, it's quite obvious that the purpose of these free giveaways is to drive more sales for other paid assets since these 'free' assets are not free forever.
Similarly, but with a little twist, stock photo sites such as Bigstock, Depositphotos and Photospin offer first time users limited periods of time to try their platforms for free.

After signing up on Depositphotos, I was immediately granted 5 on-demand downloads.
Deeper integration with creative platforms like Adobe Creative Cloud
The deep integration of Adobe Stock into Adobe Creative Cloud in 2015 was the result of an internal research which revealed that 85 per cent of those who buy stock photos are Adobe users and 95 per cent of stock photo contributors are also Adobe users. This idea makes a lot of sense, the only thing I didn't understand was why they didn't come up with it earlier?
Users can search and use low-res watermarked stock photos for their work within the Adobe software and license the stock image without having to leave the app (Source: The Next Web)
In order not to fall behind in the race, Shutterstock later released its stock photo plugin for Adobe Photoshop CC 2014 and 2015. Unfortunately, Shutterstock's plugins for additional Adobe applications are currently unavailable.
iStock also made a bold move by unveiling its plugin for Adobe Creative Cloud, which is compatible with Adobe Photoshop, Illustrator and InDesign.
Other businesses, related to stock imagery such as Reuters and EyeEm, have chosen to partner with Adobe Stock to become their content contributors.
Regardless of the moves taken from stock photo brands, free stock photo sites are still growing at an amazing speed. Over the last 2 years, I've seen lists of 21 best free stock photo sites, then 53+ and now an epic list of 134 free stock photo sites. But how would these websites fare against stock photo giants and where do we see them heading in the future?
Where are free stock photo sites heading?
We expect some bold moves from pioneers in the free stock photo industry like Pixabay, Unsplash or Pexels. Improvements on stock photo curation, product features, backend infrastructure, user interface design, and customer service will help them differentiate their offerings even further. At the end of the day, free stock photo sources will continue to thrive, as long as they continue to meet the needs of both its users and contributors, while being true to its content quality and community driven approach.
To continuously improve product and service offerings however, this will mean that they need some sort of monetisation model to grow sustainably. Free stock photography providers will increasingly test new ways to monetize their content and user traffic to turn it into a business. Current monetisation models include buying access to premium collections, like in Death to Stock and Picjumbo. Pexels currently work on an ad placement model, while Pixabay runs an affiliate marketing partnership with Shutterstock.
While writing this article, I had a chance to discuss with Mike Watson, Head of Strategic Development at Robert Harding and pick his brain on the topic.
One of the striking things that he said was "We are moving from the 'recognition' model to the 'remuneration' model. There will always be free stock photo sites but it's my belief that the best quality imagery and video will find its way onto high quality photography sites."
Free stock photo sites are growing fast, but they lack several things that their competitors have, such as tech, staff, and fund. Because free stock photo sites are unable to monetize for themselves and their photographers, Mike believes that high quality photos will eventually find their way to more established stock photo sites. This provides a degree of reassurance for bigger stock photo brands as there will always be customers who prefer top-notch photographs at some level of usage exclusivity.
I also spoke to Chris from Image Source to ask about how their premium stock image library differentiates itself from free sources. He mentioned the need for a deep understanding of what buyers want by "constantly researching customer's needs and visual and cultural trends, then shooting creative imagery that will connect with customers globally". Nothing is a stronger validation of demand than sales. The current advantage that premium stock photo brands have over free stock photo sources are decades of buyers' trends and habits, over different seasonalities and festivities. If free stock photo sources can do an analysis of the data they have collected over the years, this could a potential angle for monetisation too.

Final Thoughts
With stock photos (both free and paid) being more and more accessible and affordable these days, the needs of people who need to use imagery in their daily work have been better fulfilled.
That being said, it is inevitable that the market share of paid stock photo websites will be eaten by the rise of free stock photos. Nevertheless, it is possible to view free and paid photos as complementary models which targets two separate segments of the market. We agree with Mark that premium stock photo sites will still have a greater variety of high quality stock photos, and this will be their significant advantage over free stock photo sites.
In the short to mid term future, we may see more free stock photo sites find ways to monetize their traffic, data and community, resulting in heavier investments on technology infrastructure, staffing and product. We can also expect bigger players to continue with different innovative strategies to attract and convert prospective customers, including working with free stock photo sites. Either way, this is great news as they both provide greater variety and options for stock photos in this competitive and fast moving space.
Written by Lenka Nguyen. Edited by Keith and Benjamin.